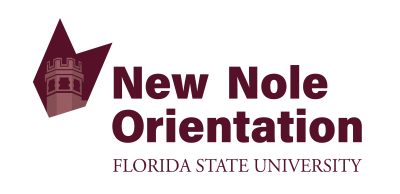 Welcome to Orientation at Florida State University! New Nole Orientation is designed to help students successfully transition into the FSU community. For each section below, click the arrow to view more information, including session descriptions and important reminders.
New Nole Orientation will take place in the Student Union (75 North Woodward Avenue, Tallahassee, FL 32306).
7:30 - 8:30 a.m.

Check-In, Taking Care of Business, Breakfast


Student Union Lobby

 

Student Union: 75 N. Woodward Ave.
Woodward Garage: 104 N. Woodward Ave.

During this time, students and family members/guests will officially check in for New Nole Orientation. Students can pick up their FSUCard (if they pre-submitted their photo) or take their FSUCard photo and they can submit their Immunization form if they have not done so already. Breakfast will be available (for students and families who opted into Orientation Dining) until the start of the Welcome session.
8:30 - 9 a.m.

Welcome to Florida State University!


Union Ballroom E

Welcome to Florida State University! In this session you will meet the Orientation team and get a quick overview of what to expect for the day.
9 - 10 a.m.

Student Torch Groups


Meeting Rooms

In this small group session with your Orientation Leader, you will get to know your classmates and prepare for the remainder of your Orientation session.
10 - 10:30 a.m.

Navigating FSU


Union Ballroom E

Throughout your time at FSU, you will have access to many resources and opportunities. In this session, you will get a brief overview of some essential programs and services to help you get connected and navigate your transition to Florida State University.
10:30 - 11:30 a.m.

 Academic Sessions


Student Union

In this session, you will learn about academic issues ranging from liberal studies to University graduation requirements, as well as how to succeed academically during your first year at FSU.
10:30 - 10:50 a.m. and 11 - 11:20 a.m. Breakout Sessions
Transfer Student Services (Union Ballroom E)
This session will help participants learn about the FSU fraternity and sorority community, including information about the four councils and how to join.
INTERNATIONAL PROGRAMS & GLOBAL ENGAGEMENT (UNION BALLROOM D)
This session will help students learn about the many opportunities for global engagement, both on campus and abroad. International Programs will share about study abroad opportunities, including programs that meet graduation requirements for most majors, around the world. The Center for Global Engagement will share about the opportunities for students to participate in an exchange program for one or two semesters at one of our 45 international partner institutions while earning FSU credit and paying FSU tuition and fees. In addition, the CGE will share how students can be globally engaged on the FSU campus through a variety of intercultural programs and events.
SUSTAINABLE YOU AT FSU (Garnet 1)
Learn how to save money and the planet by incorporating sustainability into your FSU journey, including packing smart for your move, taking advantage of on-campus resources (such as community gardening, bike rentals, and more) and building sustainability skills to help your career!
THE CAREER CENTER (Garnet 2)
Learn why you should start early in your pursuit of career success! Discover state-of-the-art programs and services designed to support your career and employability skills development. Hear about how to choose majors, clarify career plans, acquire part-time jobs or internships and market yourself to employers or graduate schools.
PRE-HEALTH AT FSU (Garnet 3)
Considering a career in medicine, dentistry, or physical therapy? This session will help you learn what it takes to be a successful applicant to health professional graduate programs. Get to know the pre-health advising staff and the services offered to anyone considering a health career.
PRE-LAW AT FSU (Garnet 4)
FSU Pre-Law advisors will share tips and strategies to help you prepare for applying to law school, including major choices, GPA, timelines and more.
10:30 - 10:50 A.m. Only Breakout Sessions
VETERANS BENEFITS (Gold 1)
This session will address getting your GI Bill or dependent Veteran benefits started or transferred to FSU. Student Veterans Center staff will also address issues such as deferments, the Post 9/11 GI Bill, student veteran organizations, transitioning to FSU and more.
11:30 a.m. - 12:30 p.m.

Lunch and Resource Fair


Union Ballroom E

Lunch will be available for students and families (who opted into Orientation Dining). Students and family members who requested a dietary accommodation will be able to pick up their meal from the Registered Dietician table.

Also during this time, feel free to walk around the various tables at the Resource Fair to learn more about some of the many resources and opportunities available at FSU.
12:30 p.m.

Countdown to Course Registration


Union Ballroom E

In this session, you will get a few final reminders about advising and registration. An Orientation Leader will guide you to your advising and course registration location.